What is local?  Look out your window / tune into the news-
See if you ever hear the same things.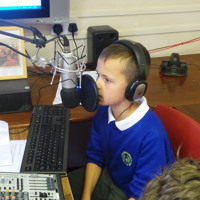 Coalway  Junior School have started their own radio station it was set up with help from Lakers School Radio and staff from the University of Gloucestershire in Cheltenham. Its not on all the time but its produced by the children and its really local. You can hear their Christmas broadcast below which includes interviews about african drumming and making lanterns to take part in the  Light up Coleford  event. And now February broadcast is available. Just click on the link below or  cut and paste into your browser box above.